The Girl Who Loved Stalin – Fringe 2017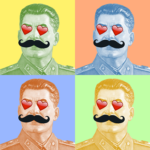 We've made a show about online dating. But it's also about the fall of the Soviet Union. And sex. Lots and lots of sex. We're playing the Edinburgh Fringe Festival 2017 from the 4-26th August at "TheSpace @Jury's Inn", every day (except the holy Sunday, which we'll be spending begging for forgiveness at Greyfriars Kirk). 3pm. Here's some info about our show:
A rough guide to romancing, wining, dining and wooing a communist dictator – whether they're the real thing or a curly-haired soldier with a self-esteem problem in a cheap costume. Four stories of unconventional romance in Soviet Russia. From a bawdy housewife to a sex-crazed German soldier, this is a coming of age story about loving your country – maybe a bit too much.
Cast
Boris – Mike Dorey
Grigori/Hans – Jake Mace
Valeria – Aditi Mohan
Elena – Livvie Newman
Father/Corporal – Tap Pswarayi
Tickets On Sale 27th April 2017